When I was a little, the most thing I wanted during the "back-to-school" preparation is get a new pencil case. I was quite stubborn and believed, nice pencil case and a lot of pretty pens/pencils can improve my learning skills. You might laught at my childish theory but it did work for me. Hence, I started my journey to collect all kinds of stationary.
However, it just becomes harder and harder these days. Maybe I just spend too many time on the digital products instead of normal pens and pencils any more. So I stop paying attention to these things anymore. But thanks to my school age boy, now I can pick up my passion again – pilling some cool pencils, erasers and accessories in his pencil case and hope these things can excite his imagination and ignite his creative and linguistic passions like it did for me in good old days.
Here are some really cool pencil cases I found during my research. They either have super cool looking, large capacity or some special functionality. Personally, I like the Shoe Shaped Pen Case mostly and will order that for my kid. How about you?
This post may contain affiliate links. If you make a purchase, Design Swan may earn an affiliate commission. Please read our disclosure for more info.
1. Bendin Pen Case [buy here]
Made of strips of finely processed and highly durable stainless steel, and in three color finishes (red, silver or black), this simple yet elegant pen or pencil case displays the craftsmanship found in top-quality industrial products like scientific instruments. Even in a day and age when most office work is done on computers, the Bendin Pen Case allows you to carry 2-3 pens and pencils in a convenient and classy way, reminding you that craftsmanship can be found even in the most mundane of objects.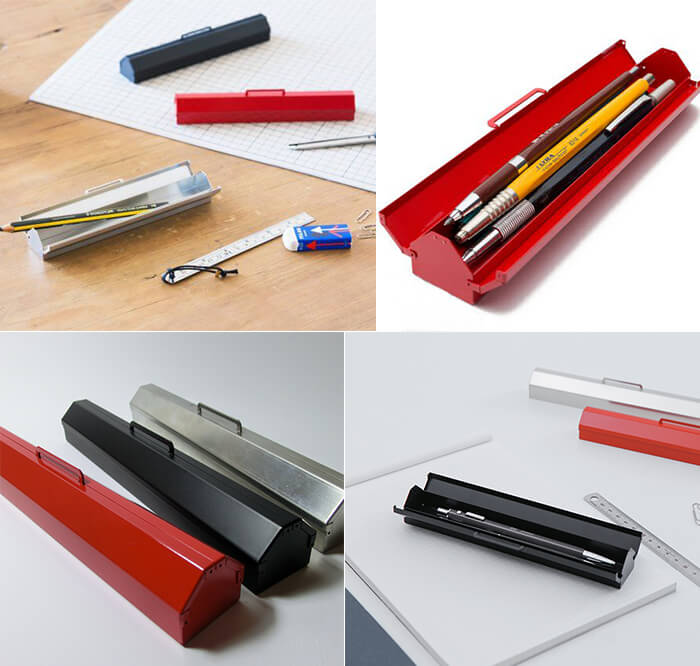 2. Pencil Case Shoe Shaped Pen Case [buy here]
A human-centric interface, design and new material provide great protection and durability against dust, scratches, bumps and crushed. Cute and familiar shoe shaped build up an active, open-minded and delightful atmosphere in school, home, and even in your office. It fits up max to 20 pens and pencils as well as small items and gadgets, great for use and looks unique in 7.87 X 3.46 X 2.1 inches rounded rectangle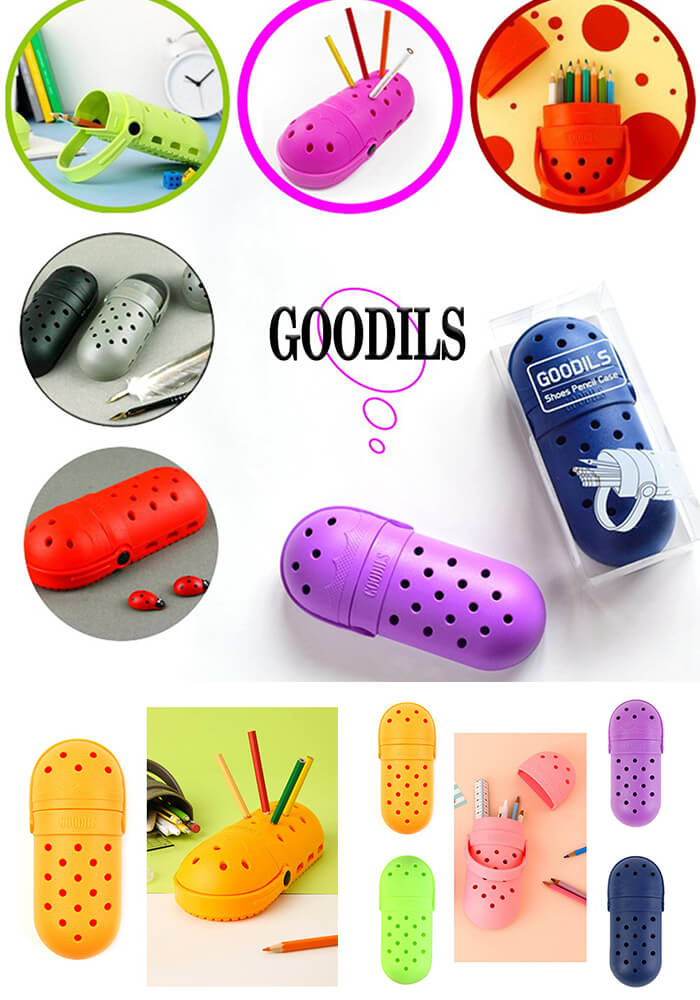 3. Pacali Pen Case [buy here]
From innovative office items brand King Jim, the Pacali is a compact pen case that opens up into two halves for better, smarter storage. The versatile and attractive Pacali features integrated magnets that keep the two halves locked together and standing upright. Available in two sizes and five colors, the Pascali can store pens, pencils, and more.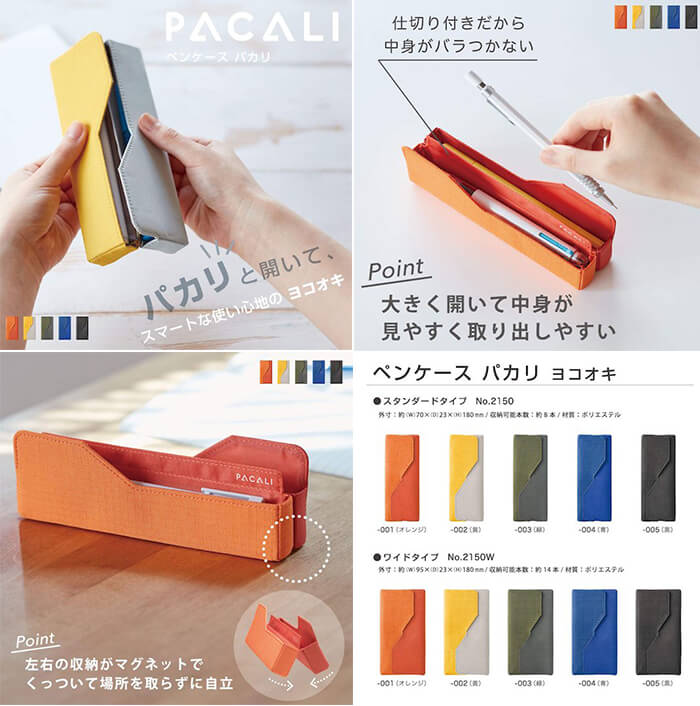 4. EASTHILL Medium Capacity Pencil Pen Case [buy here]
Easy to carry around after folding, easy to store 2. Expand to get more pens. 100% unbleached canvas on the front, 100% cotton on the bottom, yellow in color closer to orange. It can store up to 30-40 pens, and can store small stationery in the mesh bag, such as Post-it notes, Rubber, Sticker, etc. In the middle of the small mezzanine, can put a few shorter pens that are often used.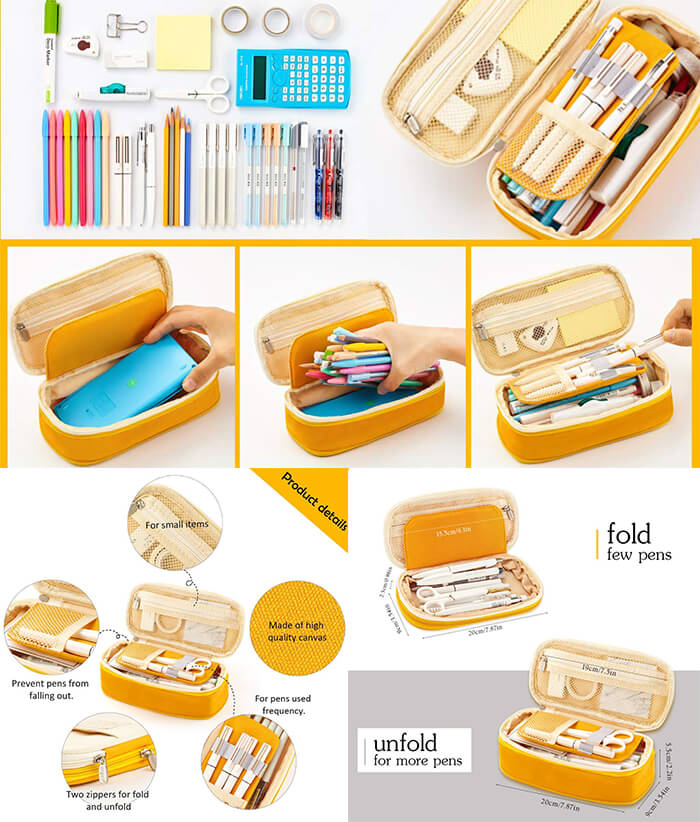 5. EASTHILL Big Capacity Pencil Pen Case [buy here]
Easy to carry,hand-held band, Velcro pockets for your favorite pencils, pens, markers and more.
1. Opens sideways or from the top
2. Keep important small notes, cards, and tickets in an easy-to-view compartment.
3. It is not only a pencil case, but also can be used for other purposes such as travel case or makeup bag.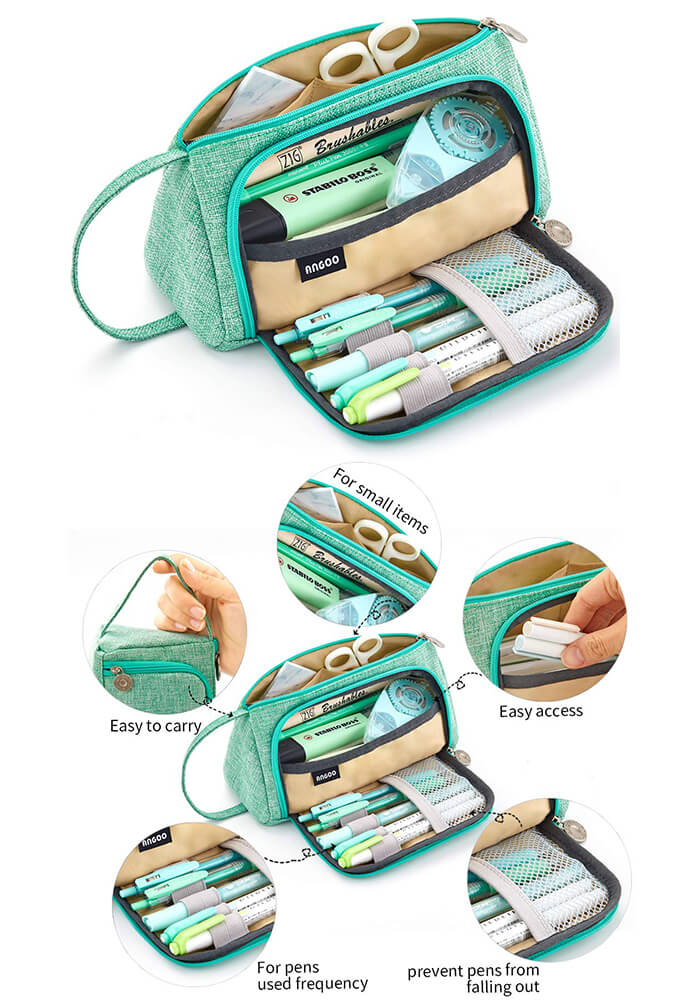 6. Aineeba Big Capacity Pencil Pen Case [buy here]
Large storage high capacity allowing notebooks,pens,pencils,scissors,calculator,washi tape and other gadgets. It can be used not only as a pencil case, but also for many other uses such as travel wallet, organizers as pictures showed. Size 6.5*9*1.2 in, large capacity but easy to carry at the same time for your favorite pencils, pens, markers and more.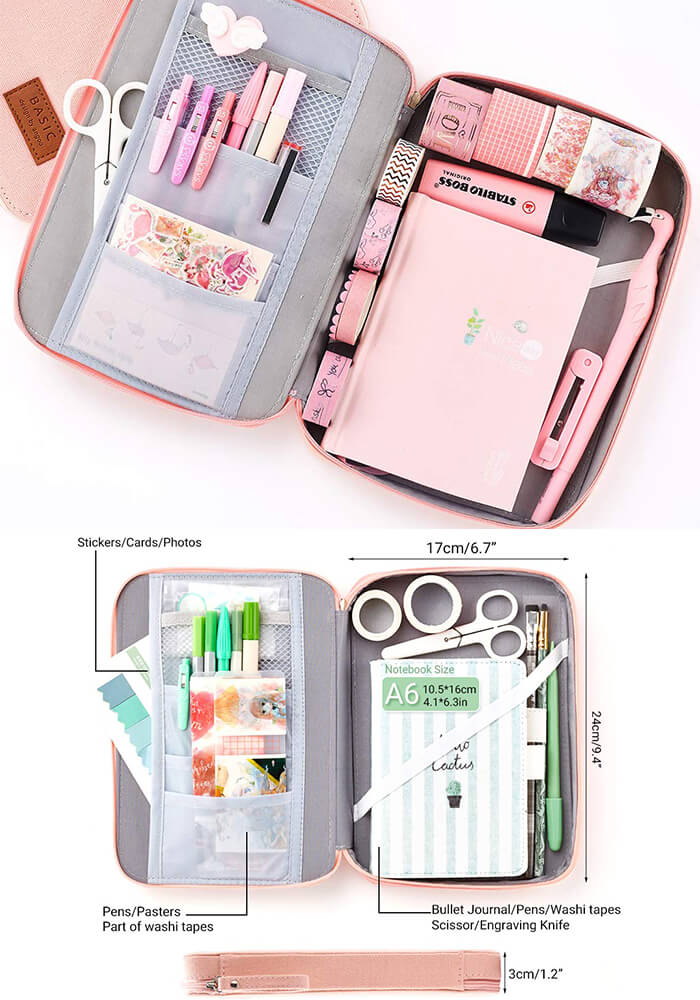 7. Leather Triangle Pencil Case [buy here]
The full grain leather wrap-pencil case is the perfect case for creatives. Use it to store art supplies, makeup brushes, glasses… you name it! The finest, most durable leather is used. The case is available in thick Dakota, with a Saddle strap. The Dakota is a beautiful leather.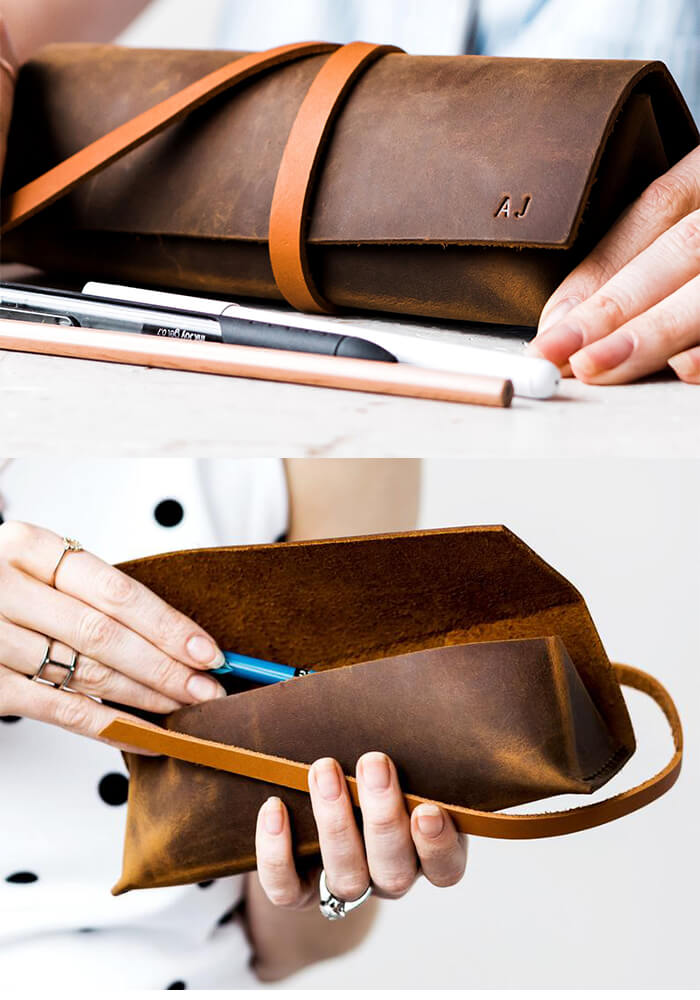 8. Cute Pencil Pen Case Holder [buy here]
It's not only a pencil case, but also can be used for other purposes such as travel wallet, makeup bag.
1. Fold it as a pencil holder.
2. Unfold it as a pencil case.
Great for storing a variety of art, pens, pencils and other small things and an ideal gift to writer friends and students.